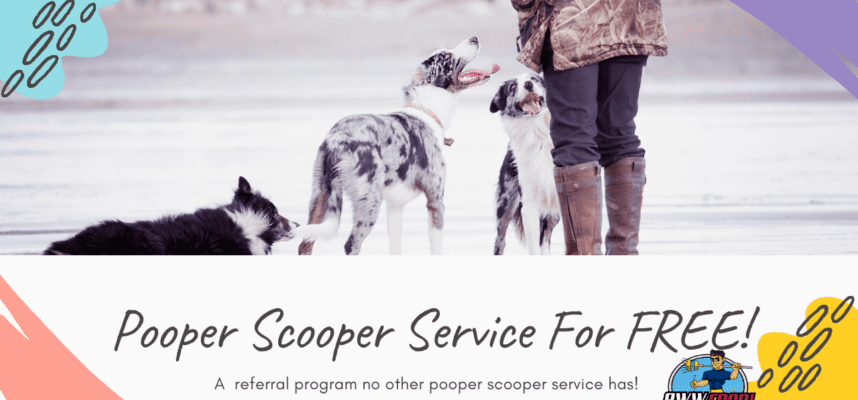 How To Get Your Pooper Scooper Service For FREE!
What can I say, talking about dog poop is never fun and either is picking it up. When I first hired a pooper scooper service I was a bit embarrassed. In fact, when they first came to my house I didn't even want to make eye contact. When I called for the service and they asked me that one question we all stretch the truth on .."How Long has It been Since You Had A Thorough Cleaning Done"? I know it was months. Like 6 to 10 months and of course I answered with "oh maybe 1 or 2 months is all."
While the kid was cleaning my yard I noticed bags starting to pile up along the driveway. I was thinking to myself Aww Crap that's a lot of dog poop. No way I had that much in that back yard. The kid left and I get a call from the pooper scooper service. He let me know, that I was pretty much full of crap saying it's only been a couple months since I cleaned up the dog poop. He didn't say it in a mean way but he was right. He let me know my bill was going to be a lot more than what I was originally quoted. After seeing all the crap they he hauled away, I'm so glad I hired someone to do it for me.
The reason I share this story is for a couple reasons. One, I wasn't lazy. I simply hated picking up dog poop and I was very busy most of the time. I know some people are haters and will say, I shouldn't have dogs if I can't pick up after them. If that's the case, then people should not have nanny's or baby sitters. Having a pooper scooper service is a must have and need service for many of us.
The other reason I shared this story with you is because, we should not be embarrassed by hiring a pooper scooper service or be embarrassed by how long it's been since we cleaned up our yard last. The people cleaning your yard, know how long it's been since you cleaned once they start to clean it up. When they ask you how long it's been they do it for the proper quote and to set aside the right amount of time to clean that yard. It's important to know that the time they need is very important to the be able to finish the other jobs.
So what does this all have to do with getting your pooper scooper service done for free?
Since most of us hate having to deal with dog poop, we created a referral system that no other dog poop cleaning company offers. Well here in Colorado anyway. When I was creating this referral program I looked at what others we're offering. Some we're offering a free cleaning. Just one cleaning. Some offering a 50% discount on your next poop scoop cleaning. What I really noticed, is that most of them didn't even offer anything. I saw a lot of first time offers, but not much for you to go out and tell your friends.
AwwCrap! Pooper Scooper Service referral program is really simple. We work on a sliding scale. When you refer one friend, you get 25% off your service for the life of your friends service. So if they stay on for a year, your service will be discounted 25% for the year they are with us. And this goes all the way to free. You refer 4 people, then yours is free! Not free for one cleaning! FREE until your referrals quit service!
We do have a catch! The fine print is something you need to pay attention too. So here it goes, If you have 3 dogs and you refer someone who only has 1 dog, we don't give you 25% off. You will get 12.5% In the video below, I go over the program so you can learn more about it. By far, this is the best referral program in pooper scooper history. I hope you take full advantage of it.
Are You Ready To Schedule A Cleaning?
---